It's going to be a very busy few weeks. But gee, Melissa, isn't that what you
always
say? Yeah. Yeah I suppose I do. I'm working on this in therapy. Seriously, one of the primary practical reasons I am getting my head shrunk is to break my habit of being unable to say no to opportunities. The habit is starting to become a real problem now not only because I'm lucky enough to be getting too many offers, but because I'm getting old and can no longer stay up for 72 hours straight without feeling much, much older.
When I hear people say "Wow, you're so busy!" I no longer take it as a testament to my work ethic and can-do attitude. I just get mad at myself. They might as well have said "Oh look, your nails are bitten down to the quick!" or "Gosh, haven't you been using an impressive amount of heroin recently!"
The first step is to admit you have a problem. But the problem led to some pretty neat things. Here is a brief rundown of the publicly accessible fruits of my labor.
Up Your Cherry
Puppet Manualfesto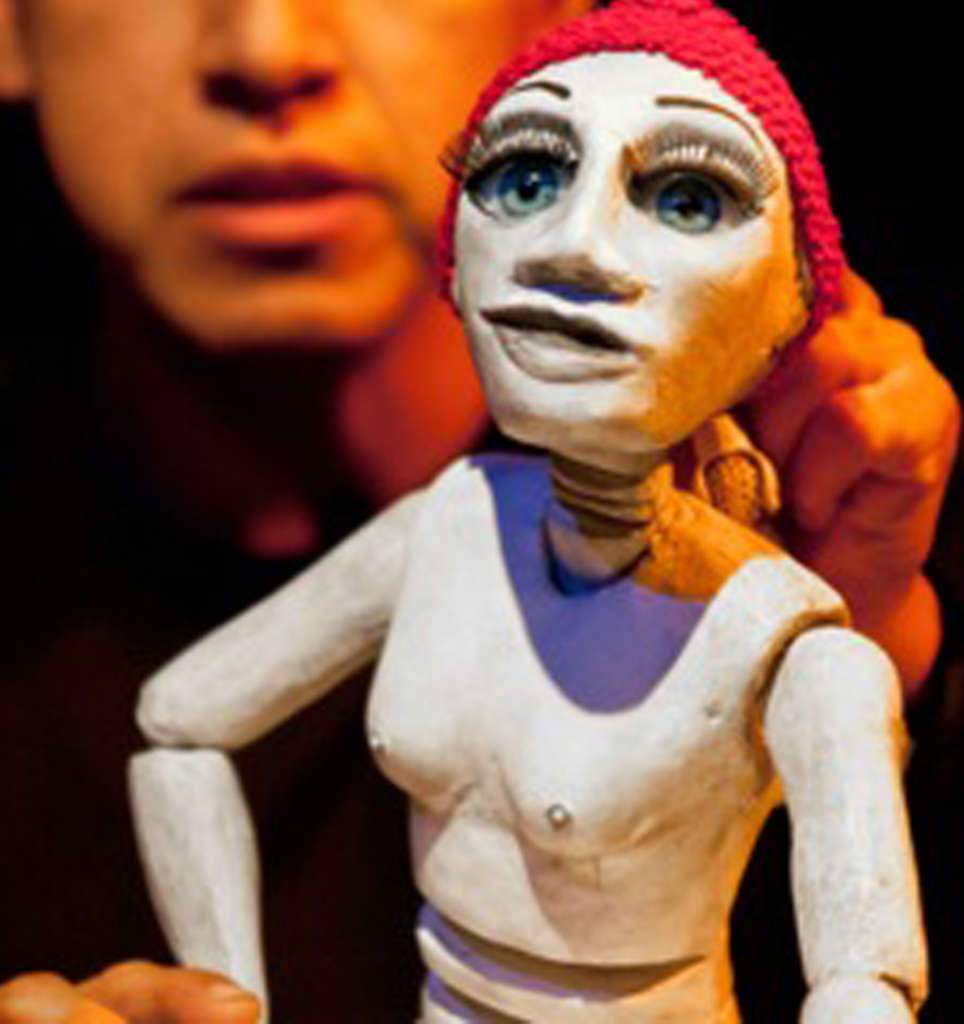 On Saturday, our band
Up Your Cherry
will be playing again at Philly's puppet slam,
Puppet Manualfesto
at
Walking Fish Theater
. We've done this a couple of times now, and we embrace the Spinal Tap implications.
Some wicked pre-show publicity has led to Up Your Cherry's
first mention on Philly.com
today. Hilariously, they've captioned the photo above with my name.
June
The Voice Electric
Network for New Music
and
Voice of this Generation
(and of the big lips) have joined forces with the Annenberg Center for the Performing Arts for a really cool concert of electroacoustic works for voice called
The Voice Electric
(you can also download program notes from that link, how handy). I have a world premiere on the program:
June
, which sets a poem by Lauren Rile-Smith. Here, watch this video; it explains it all much better than I could in text:
You can read the entire poem by Lauren Rile-Smith on
her blog
.
Captain Samuels Speaks to the Sea!
Ensemble Epomeo at the Newburyport Chamber Music Festival
Over the summer, I wrote a 20-minute piece for string trio and narrator called
Captain Samuels Speaks to the Sea!
for a commission by the
Newburyport Chamber Music Festival
and the
Two Rivers Festival
in England for
Ensemble Epomeo
. As suggested by the title and the picture above, it's about the record-breaking 19th-century clipper ship the Dreadnought and her captain Samuel Samuels, who in 1887 wrote a memoir called
From the Forecastle to the Cabin
(here,
read it for free
) that is far, far better than
Moby-Dick
(aside: I have no idea why
Moby-Dick
is classified as a Great American Novel. I enjoyed reading it about as much as I enjoyed
Atlas Shrugged
. I blogged a little of my experience reading
M-B
here
.). The Dreadnought was built in Newburyport and was the fastest sailing ship between America and England before steam power came along.
The narration is based on a poem by poet/librettist and Two Rivers artistic director Peter Davison, who has written an entry describing his process on the
Epomeo blog Broken Thirds
.
Next week,
Captain Samuels Speaks to the Sea!
will be given a
preview performance at the Amado recital hall at Penn
on Thursday night (at which I will be providing the narration), then its official premiere will take place on Saturday at a black tie event at
Custom House, Newburyport
, Massachusetts, with Peter Davison as narrator. Prior to the performance, Davison will give a reading of the long form of his poem (the text for the trio is abridged), with accompanying sea shanties sung by yours truly.
Punk rock to sea shanties in a week.
If you are keeping score, this means that I have first-time performances on Thursday, Friday, and Saturday of next week, and in between Friday's and Saturday's performances, I have to drive six and a half hours. No problem; the
roadtrop
has me well-trained.
Behind the Eye
Gas and Electric Arts
I am currently putting together an original score for Gas and Electric Arts'
upcoming production of Carson Kreitzer's Behind the Eye
. The play is about the fascinating photographer/model/muse/etc. Lee Miller, whose life was far more exciting than mine. She worked with Man Ray (it's criminal that she isn't as well known), posed for her good friend Picasso, and was a WWII photographer (Here she is
taking a bath in Hitler's bathtub
. Crazy.), among about a billion other things that I could only aspire to.
There's more about the play and the production in
BroadwayWorld
.
ALSO! If you would like to see this show for free by volunteering to usher, let me know and I will put you in touch with Gas and Electric Arts!
kommós
OK, this isn't a preview, it's a postview. In the last couple of weeks, my
solo violin piece
has been getting some play. First at the
Clearfield Salon
by
Caeli Smith
(sister of my poet Lauren Rile-Smith; the talent in that family is amazeballs and I haven't even begun to tell you about it):
Then
kommós
had another airing at a NOW music society concert at West Chester University by violinist Hope Linton, who also played it for a lunchtime recital at WCU last week.
The two performances were very different, which is wonderful! The piece always feels a bit like an acting monologue to me, and seeing two performances was like watching two very different actors take it on. Both violinists are extraordinarily talented and musical, and both did bang-up jobs, but best of all, I could hear their individual voices. So cool.
###
I'm going to stop. This entry is too long already. There's another premiere coming up of a commission I completed over the summer, but it's not for some weeks, so I'll talk that up later.
And I haven't even mentioned
Ayn
.
I leave you with this tidbit from
Atlas Shrugged
, in which John Galt demonstrates that he is no better than that stalky vampire in those vampire books, or vice versa:
Dagny: "How did you know what I look like in ... my office?"
John Galt: "I told you that I've watched you for years."
"How were you able to watch me that thoroughly? From where?"
"I will not answer you now," he said simply, without defiance.